Buying Gifts for kids who travel can be difficult.
The internet comes alive every Christmas with people asking for ideas of what to give as gifts for kids who travel.
Even for parents of kids it can be difficult to think of gifts to give your child when you know you will be travelling.
Once you have covered the obvious Tablet/Ipad many say they draw a blank.  Then relatives and friends start asking what can I give your child for Christmas, Birthday or a Leaving present for those with school children taking of on Fulltime travel.
Friends or family members who want to give a gift to travelling children often struggle to come up with ideas particularly if they have not travelled themselves and do not know what is useful.
Putting as many helpful ideas in one location means our followers can easily share the lists with their friends and families who are wanting to give and receive gifts that are travel friendly.
Of course there may be other items that are suitable or that different families would consider acceptable travel gifts.
That is the beauty of travel it means different things to different people.
To enable a comprehensive one stop resource of gifts for kids who travel we are happy to consider adding suggestions which you can provide to us by email or by personal message on facebook.
Thermos Drink Bottle
One thing especially in hotter climates that we have found invaluable is a thermos drink bottle which can keep water at a good temperature for up to 8 hours, great for hiking or long walks exploring new towns.
We have
had ours for years but I just bought a stocking stuffer neoprene shoulder strap holder for under $10.
Leaving hands free for exploring and no lost water bottles! Some great patterns too here is the link where I ordered ours (quality ok handling well)  and the thermos can be bought in target too if you don't want to wait.
Dictionary Bookmark
My eldest gave my youngest, one of these Dictionary Bookmarks last Christmas and it is perfect for kids on the road.
It is a bookmark (skinny below the LCD screen) but also a Dictionary.
Perfect for those kids learning to read – no connection to this company but Australian company and love to support local.
Available in Pink White or Grey.
Kids Travel Journal
For recording all the wonderful memories and experiences they have while travelling.  You can't possibly remember all the sites you see and all the special people you meet!  For my daughter a place to draw and record her favourite things is a treasure she will have for years to come.
I LOVE journaling!  I am hoping to pass that love onto my daughter. By recording all the magical moments it delivers a sense of gratitude for the amazing experience they are part of and a place to record the wonders they are witnessing, a great place to reflect on in the event they may be having a "down" day and need a lift.
Being able to record all your childs friends they meet on their travels and where they meet them is also a fabulous resource.
You meet so many wonderful people while travelling we have friends from all of the world and at least one from every country we ever visited is still in contact with us today (and some of them were before electronic communication).
For those of you who take the kids on an extended break from school to complete your travels already have the morning news, so homework and brag book for your kids is already sorted (and we know you all understand the kids want to take this news on the first day back to school)  Already done for you!
Also what a great way for the kids to remember what they have been up to when talking to Nanny & Poppy, Grandma and Grandpa when they are on the phone updating them on their travel so far (great fun way to encourage reading and communication)
We have one of these journals for our daughter and they have been put together by a wonderful husband and wife team who have done the travel, have the kids and no what a valuable and educational asset journaling is for your kids.
We are also very proud to support an Australian business and product buy one today for your kids, grandkids anyone who is on the move! They are on sale for Christmas click here to get yours today!
Headphones
A pair of good quality headphones.  These days they come in pouches or cases to make sure they stay compact.  You can even get little velcro cord holder togetherers.
There are some amazing colours and designs available and used for multiple reasons.
Playing Music whether as a stimulant or relaxation tool

Muting that annoying music that seems to be behind every ga
me your kids love!
Listening to podcasts whether educational or personal interest while waiting for planes trains or buses.
Entertaining them on wet weather days.

The great part is you can get them anywhere and they range from cheap to woah!
UNO
For generations this fa
mily favourite has been part of many a games cupboard. 
On the road is no different, in some circumstances it can be a lifesaver (for mum and dads sanity).
Filling in time between flights at the airport.
Being played on the camp table around the fire
On long haul flights where the kids are getting restless or at the table in your family home there is no place UNO does not belong.
Due to it's light weight and compact design it makes the ideal travelling companion.  It also provides an educational benefit for teaching young children their numbers in a bright happy fun way.
Generally found around $15.00 (AUS) at all your favourite department stores and games shop or hit the photo above to have mailed to you.
Binoculars
Over the years like a lot of things (mobile phones, house block sizes lol) binoculars have become smaller more com
pact.
This makes them very travel friendly for your little adventurer!
So next time your at a lookout where they have the machines that ask a ridiculous amount of money to put your face up close and personal to the previous person who used it, your set!
Available in many different qualities, sizes and even colour now so you can buy easily identifiable binoculars for each child.
Helping make lookouts, nature walks and hiking more interactive for the kids ensuring they get more out of their travel.
Perfect for the little explorer amongst us!
Check out our Lets Explore treasure hunt sheets here so they can use their new present.
The best bit is they don't take up too much room while travelling. So they can be taken for overseas travel too.
We all love an adventure and to explore new places we visit and so this would be the perfect present to buddy with a bird or wildlife travel size book.
Little Passports Subscription
Little Passports subscription! Available in 3 month 6 month and 12 month subscriptions.
Just think, how do our little ones have any idea of what lies in store and what all the fuss is about travelling.  We signed up at least 18 months before we knew we were going to be full time travelling.
Cake and Eat it 3 are proud to have an affiliate relationship with this wonderful company as it was an integral step in getting our daughter ready for travel. We have a discounted offer for our followers using the link shown in this post.
We are very selective who we choose to work with and only refer businesses or products (irrespective of any benefit on offer or not) that we have used or still are using and recommend.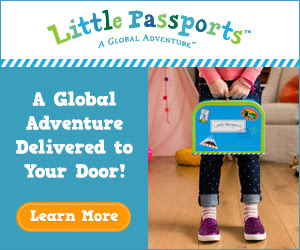 Our daughter absolutely loved her Little Passports subscription and as a result her knowledge of countries, their capital cities and what she can eat there is fantastic.
Got multiple kids – no problem one subscription could benefit the whole family as long as the kids are willing to share the trinket/activity.
Overseas travel can be a scary thought for a lot of adults let alone children.  The Little Passports subscription opens their eyes to the world and what to expect of travel.
It also helps minimise any anxiety they may be feeling about such a dramatic change in their life.
Little Passports sends packages in the mail to your child and what child doesn't like to get mail!
A new country is sent each month. In the package you will find a postcard from their explorer friends that tour the world on a magic scooter.
Facts about the country, foods they could expect to eat there (a big concern for daughter when we first mentioned overseas travel was "But what am I going to eat?!" always thinking of food.
Included in the monthly package is a trinket or activity that depicts the country for that month.  Sushi rubber for Japan. Mummy Torso you had to find by archaeological excavation using a mini hammer and chisel like plastic implement – Not kidding so much fun!!
Age appropriate learning
Different age groups are available. Our daughter is a World Explorer (6-10)  first month of your subscription comes with a mini suitcase, passport, a fantastic world map.
We laminated ours and now forms our table top in the motorhome. You can then pin a marker provided with each country as you receive it every month.
Also included for your little explorer is a boarding pass with a code that allows for extended learning trivia and games online providing further educational content.
The gives you the opportunity to have a geography lesson discussing capital cities, animals, food or whatever facts your child loves to talk about every time the package comes and providing all the resources to do a thorough lesson that is also FUN!
This is the perfect resource for homeschool or worldschool families and for any family planning travel in the future.
Lego
I must admit it was a favourite of mine when I was little and hook or by crook our kids were going to love it! 
This means we get to continue building and creating and spend quality time with our daughter doing something we all love.
For those of you that have more than one child it is a great way to encourage group play time that each child is able to embrace their own wonderful imagination while playing together.
Travelling in Australia
For our Australian travel we allocated a whole tub just for Lego as it is light, encourages creativity and both a toy and an educational tool – Just don't tell your kids! 
We would not make space allowance when travelling overseas for lego.

There are so many sites that provide ideas for using for Maths lessons.
Having a physical object (one that they love) aids in their ability to grasp math related learning concepts. 
One of my favourite sites for this is Scholastic  (a well known and respected educational resource) and their website provides some excellent suggestions including;
Building Square Numbers
Multiplication Division Exploration
Tackling Fractions
Mean, Median, Mode, and Range
They have some excellent worksheets available for download. These will assist you with structuring your 'exploring' so it does not feel like a math lesson. Be sure to check out our Educational Websites and Resources

Exploring Mean, Median, Mode, and Range with LEGO
Exploring Equivalent Fractions
If you don't have the room for a tub you could always ask Nanna to make you a round material lego mat with hemmed pull cord that provides for easy play, packing up and storage of the lego!
And if you are a crafty Nanna what a wonderful affordable gift to personalise with your grandchildren's names.
A great way to remind them how much you miss them while they are travelling.
Goggles
We are including mask, snorkel and goggles all in the one basket today.
Kids love water! No doubt about it. Even if it is sub degree temperatures they will be up for a swim if there is water!
Goggles are affordable and this is a gift that will be so well used on the road. When space is a premium this is important.
I strongly recommend the tinted goggles if buying the normal goggles our Puppy is wearing in the photo.
These will protect your childs eyes from excessive UV rays (which lets face it we will be chasing the sun – not saying there is anything wrong with a winter holiday).
There are s
o many colours so many styles and you can even get personalised Vorgee ones from Spatz!!
Snorkel Mask Flippers
For those of you who are doing more full-time travel (yay!) We purchased our daughter a Mirage Snorkelling Set (Quest model) from BCF. 
Numerous retail outlets sell the sets. We got ours from BCF (the entertainment book gives 10
% off BCF gift certificates if you have one) so that was a bonus. 
NB. Check with your kids school before you get one. They are used as a fundraiser so you can support a school or charity while your buying one! Win Win.

Wait for the 20% off discount days they have and wahlah 30% off.
  The link to the right is off Amazon, we have not bought this particular one but cheaper and have an adjustable foot.  Our Miss 9 grows like you would not believe, she is one shoe size behind me and the same flipper size!!
Very worthwhile discount. Especially if you have multiple kids and need to buy more than one set. 
Torch
A torch or headlamp definitely form part of every safety checklist and are fun for spotlighting animals at nigh
t!
It is rare to be able to have an item that is both practical and fun! 
You can never have too many torches especially when the batteries run out while camping and you need to do a loo run.
The headlamps are handy for kids as they have both their hands free for safety.  There is also less chance of it being lost.
Spotlighting
Do you remember playing spotlight at night when you were young.  Spotting animals and seeing those eyes shining back at you from our nocturnal friends.
It is so exciting and gets the kids blood pumping pretending to be brave looking for frogs, possums and other night time animals. (After the toasting of marshmallows of course in the camp fire)
You can buy them here you can buy them there, you can buy them almost anywhere. (OK let the Dr Seuss in me get a bit out of control there). 
The fact is they are readily available in most retail outlets and camping stores but it is worth spending a little bit more to have better quality and LED will ensure the batteries last longer than the first camping trip.
You can buy rechargeable batteries. There are big ones small ones LED ones.  
There are lots of options when buying torches and headlamps and everyone has different requirements or preferences.
By having a spare torch on hand in the event of a flat tyre at night or inspection of trailer/caravan being towed can be very handy.
IPAD AND SURVIVOR CASE

IPAD, Tablet Kind
le or Ipad they are an educational and entertainment package all in one.
We have had our daughters for three years and it is used nearly every day.  Minecraft gets a bit of screen time.  I hear all the mothers groan.
The National Geographic App another favourite with great facts and great photos. She just LOVES to research. 
Size does matter
We didnt get a big enough one for her as we didn't think we would need it at the time.  I had one too so it has filled the void.  A few movies installed on it for delayed planes, trains and bus trips.
Not to mention you can now plug them in to most planes multimedia systems and it is so easy to use even a child can do it!
It really has stood the test of time and our daughter.  I largely credit that to the survivor case we bought for it when we got it.
Well worth the extra expense to preserve the item through childhood.  Anything anywhere anyhow.
There are a lot of educational apps that we have utilised over this period.  Everyone has different aged children and different ideas on what they want their kids to have access to so I will not go into Apps.
Fishing Rod
And boogie boards too
for good measure.
Boy or Girl does not matter all kids love to fish.  Not so much the cleaning bit but catching bit is awesome!
Not so much the baiting bit but the catching is cool! The gutting and filleting bit not so much, but the Eating is Awesome!
So for Christmas any child that is travelling even just for the Christmas break needs a fishing
rod.  Kids Travelling Australia definitely need a fishing rod!
I used to live on a boat so fishing was an every week activity.  Still love it but now I am more interested in the cooking the marinade and or seasoning of the fish once caught and filleted.
Boogie Boards have been thrown in too just because they cant be left out, so much fun and a must if near water. Preferably with handles and towing rope attachment so you can pull the kids along in shallow water. This means you also get a gym workout too!

There is also lots of tackle and tackle boxes they will need too, so it is a great family present that they can all contribute to.
The good news is there can be one family tackle box and each child gets a fishing rod and everyone is happy. 
Pillow Pet
This can be handy as a car travel pillow, extra padding behind them in the camp chair such a handy travel buddy.  This is a great present from best buddies or family that reminds your kids of the person who gave it to them.  So many themes to choose from there is something for everyone.
Save
Save
Save
Save
Save
Save
Save
Save
Save
Save